chefdemarty
Posts: 34
Greetings all. I recently spent another great day with Gary Haywood at my home & we had a brilliant honing session. Dorko is still fantastic Gary thanks for getting it to the level I know it should be.
Gary has just acquired a mouthwateringly beautiful Thiers Issard 7 Day Razor set in the Bijou De France Design. (Jewel of France)
I had to take some photos as they were so nice & thought the Forum would like to see this truly lovely set of Razors. I'm already saving for a set.

Gary had these specially commissioned by Thiers with Bone scales rather than the standard Blonde Horn normally fitted with this particular 7 day set & they look really fantastic. You just want to hold them.
I don't normally get this exited at the sight of a Straight Razor but they looked so so nice.

The sculptured spine work on each Razor is different on each day & compliments the lovely blade design of the Bijou De France. Just looking at them in there custom wooden case screams quality.
I have always been a great fan of TI & after seeing these they are now No 1 in my book.

I will let Gary report on the shave quality of the 7 day set as I know he has been going through the Monday to Sunday razors over the last couple of weeks.


Hope Santa reads my letter!
[Last edited by chefdemarty, 2011-11-14 18:46]
2011-11-14 18:40
Dr Ralfson Bwhahaha (tat2Ralfy)
Associate
Posts: 3610
Simply stunning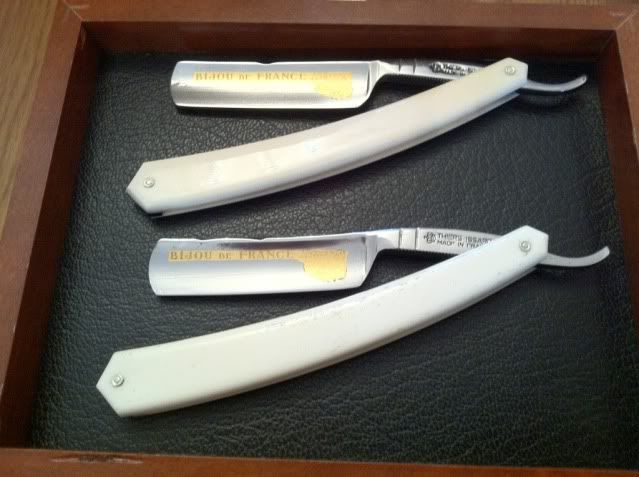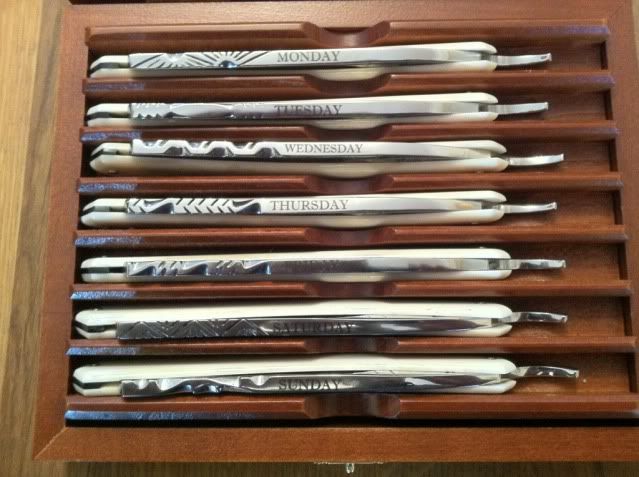 We Are All Pioneers In Our Own Right.
The Infamous Coticule Crew
Pip Pip Old Bean
2011-11-15 12:30
Deckard
Posts: 156
I'm a sucker for worked spines as you know.
Very nice, I do so like the generic TI scale shape also
.
I've no doubt that they will be excellent shavers.
Joe
2011-11-15 13:27
Wim Decraene (decraew)
Insider +1
From: Belgium
Posts: 447
What a fantastic set of razors!
My bladder loosens when I think about what this must cost
2011-11-15 13:56
BlueDun
Insider
From: Switzerland
Posts: 333
GARY !!!
I'm gonna spend a week's holiday in Manchester just to get shaved by you with these gems !!!

... simply drop dead beautiful pieces !
2011-11-15 14:58
clovis
Posts: 50
That'll be a hard present to beat come Christmas.....
2011-11-15 16:12
gary haywood (garyhaywood)
Advisor
From: United Kingdom
Posts: 1678
thanxs guys, i thought you would like to see them, thanxs ralfy for uploading pictures, and a big thankyou to martin for posting, and getting hiold of the razors for me. they all shave realy well from factory edge, so no complaints there. the razor is perfect size and i do realy like this ti design.
thanxs gary
gary haywood
2011-11-15 22:56
Deckard
Posts: 156
I've some raw bone in the freezer I've yet to mascerate and will someday make some scales from.
Other than the lack of grain you get with Ivory (dentine), I think bone is very similar in texture to Ivory.
Love the black specks you get in bone also. Lovley classy scale material.
Joe
2011-11-15 23:41
altshaver
Posts: 90
That is a beautiful set of straight razors. In my opinion, Theirs Issard makes the nicest seven-day straight razor sets today. I have seen some wonderful seven-day straight razors sets that have come out of Solingen, but the current ones that are made just don't seem to match up to the old vintage sets, in my opinion. I have seen some nice old vintage Sheffield straight razor sets as well, too. I have never seen an American-made seven-day razor set, either. That must be due to a lack of a market for such in the U.S. at the time.
For this razor set, are the days of the week laser-etched, or stamped into the blades' spines? Gary, have you decided to give up all your razors for this set, or is this set simply an addition to your collection? Either way, I hope you enjoy it a lot!
2011-11-16 08:55
gary haywood (garyhaywood)
Advisor
From: United Kingdom
Posts: 1678
not sure if lazerd, i'm sure it is laserd.I can see me selling a couple of razors, at the mo i'm shaving with my inox puma, its that smooth and one of my best coti edges , i'm finding it seroiusly hard to not use it, i'm going to see how many shaves i can get out it.
gary haywood
2011-11-16 09:15